We include products we think are useful for our readers. If you buy through links on this page, we may earn a small commission. Read our affiliate disclaimer here.
Pool fences around inground pools are both a necessity and a cosmetic addition. States usually have regulations surrounding the matter and pool owners are advised to have a pool fence.
Now, there is no shortage of options if someone wishes to purchase a pool fence for inground pools.
In fact, the market is full of different options to choose from, in different styles, price points, and aesthetics.
In this article, we will help you decide on what pool fence to get for your pool by introducing some pool fence products and informing you on what will come along with assembling a pool fence around an inground pool.
TANG Sunshades Depot 5′ x 50′ FT Beige Tan Privacy Fence Screen
It is available in a variety of sizes to meet your specific needs and is made with 100% high-quality PURE polyethylene material for maximum UV stabilization. Each corner has 3 grommets for extra reinforcement, and the breathable weaving fabric allows water and air to go through freely.
Inground Pool Fence Requirements
Safety is the primary purpose of a pool fence. In this respect, there are codes and regulations on what the specific characteristics are supposed to be for pool fences. Here are a few:
Is required to be 4 feet tall.
Should have no more than 2 inches of space between the ground and the lowest end of the fence.
Should be able to block anything at least 4 inches in diameter from getting through
Spacings between fence railings or between mesh patterns should not exceed 4 inches.
How Much Does It Cost To Put A Fence Around An Inground Pool?
There are several factors affecting the costs of a pool fence around an inground pool, with professional pool fence installers pricing installation and the fence on a per-case basis.
However, the average cost has been reported to be between $15-$25 per linear foot. It also varies between brands, if you used a TANG privacy pool fence then each foot of fence will basically cost a dollar, due to it being 50 feet long at $49.98.
But a tempered glass fence will most likely cost upwards of $30 per linear foot. It will largely depend on what material you want and the perimeter of the pool.
Talk to a Fence Contractor Near You
4 Best Pool Fences for Inground Pools
Best Choice: Removable Pool Fence From Protect A Child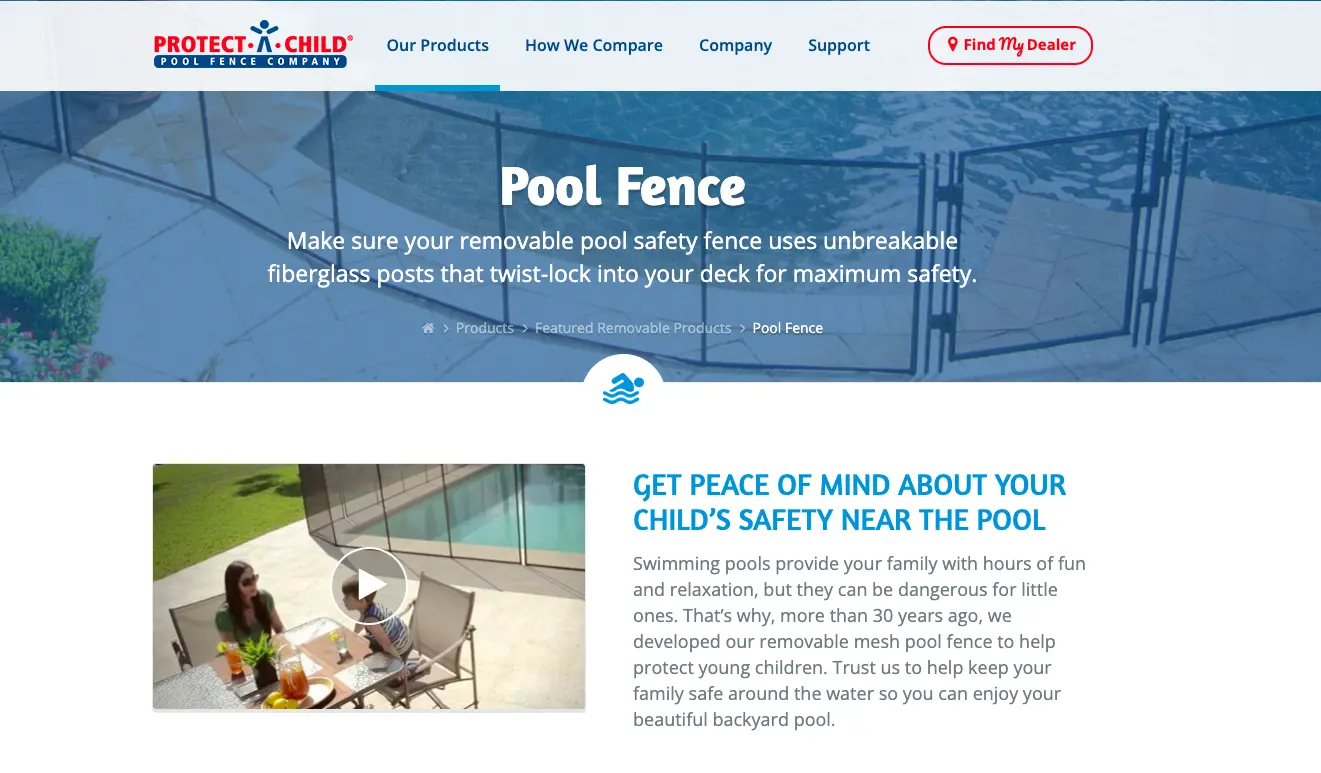 Protect-A-Child's pool fence has the most features compared to anything on this list. The automatic closing self-latching gates, variety in color, and mesh panels protected from UV radiation will ensure that this will last long, surely preventing small animals and children from falling into your pool for many years.
Best Value For Money: Tang Sunshades Depot 5′ X 50′ Ft Temporary Fence Privacy Screen
The TANG Sunshades Fence is 50 feet long making it the longest one on this list and the cheapest per linear foot. It also provides great privacy by being very opaque and blocking 90% of light. It will bring the best value for your hard-earned money and is reasonably durable.
Coarbor Outdoor Privacy Pool Fence
Definitely the most basic pool fence choice on this list. The polyethylene plastic fence is a great material to use for meshes due to its great flexibility.
Patio Outdoor Fence Privacy Screen With Poles For Inground Pools
This inground pool fence is a removable pool fence that comes in brown, gray beige, orange, green, hollow brown, hollow beige, and hollow gray. It's 24 feet long making it great for long pool perimeters.
Inground Pool Fence Ideas
This sleek frameless glass pool fence is great for all those looking for a minimalist design that does not obstruct the view of their surroundings. Perfect for those pools that overlook a scenic picturesque backdrop.
A simple and practical fence system that provides everything from safety to a style that is neutral enough not to overshadow or look out of place in most in-house or backyard pools.
For those looking for a more traditional fence-looking pool fence, then this is for you. As long as a child can't climb over using the fence railings, then this can serve as a homey addition to your pool.
Find the right fence contractor for your project
Final Thoughts
Pool fences are an important part of anyone's in-house or backyard pool. Providing safety, by reducing the risks of drowning, and contributing to the general aesthetic around the pool.
It is important especially for inground pools where these are not elevated and are prone to having people falling into them, so choosing the best pool fence containing the best features and at the best price is mandatory when having a pool.
At FenceAdvise, we pride ourselves on being the most reliable and trustworthy source of fencing information. Our articles are based on only the highest quality sources, including peer-reviewed studies, to ensure that our readers always have access to accurate information. Read more about our Editorial Guidelines.