We include products we think are useful for our readers. If you buy through links on this page, we may earn a small commission. Read our affiliate disclaimer here.
When deciding what material to use for a fence. Wood will naturally come to mind, it is a versatile material that has long been used for fences.
However, other materials and styles have become more popular over the decades and it poses the question of which material you should use for your fence.
Many factors will influence this decision: durability, aesthetics, and most importantly, the costs will determine which fence material will fit your plans.
How much does a wooden fence cost compared to other fences like Vinyl, Chain links, or Metal?
In this article, we pitted the wooden fence against all these other fence materials to see which one is the cheapest and if there is a great alternative to a wooden fence.
Talk to a Fence Contractor Near You
Comparison of Wooden Fence With Vinyl, Chain Link, and Metal Fence
Style Comparison
Vinyl vs Wood Fence
Vinyl fences are made out of PVC. This plastic material gives vinyl fences a more synthetic look compared to wooden fences, but there are vinyl fences that are made to look like natural wood fences.
The benefit here is that vinyl fences do not require paint or staining, unlike wood, because vinyl fences can be made to already have color.
-Read more about vinyl fences here.
However, a real wooden fence can still be distinguished from a vinyl fence and is better if one wants a more rustic look.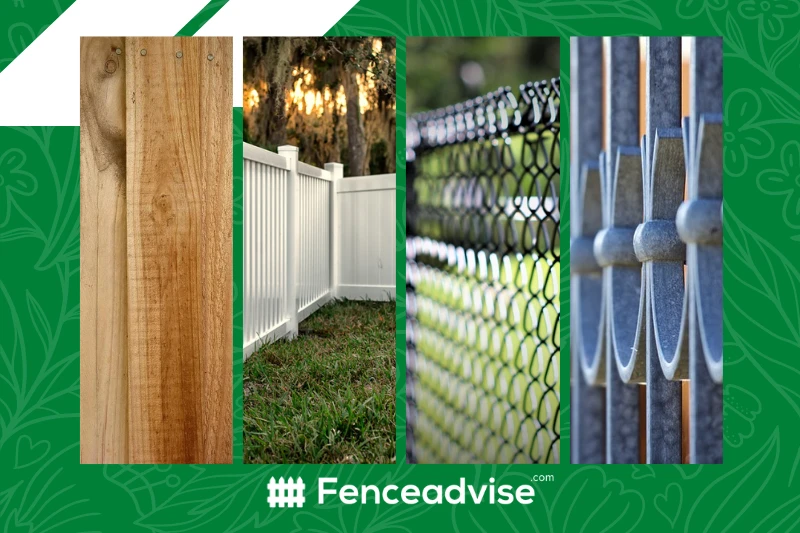 Chain Link vs Wood Fence
Chain link fences come in a diamond pattern with holes distributed across the fence. It is made out of either galvanized steel or aluminum and is sometimes coated with vinyl to protect the metal underneath.
A wooden fence offers a wider range of styles compared to chain link fences because wooden fences can be painted or stained in different colors and different patterns of the wood's grain can be highlighted, compared to the repeating diamond pattern of a chain link fence.
Metal vs Wood Fence
Metal fences are usually made of galvanized steel, aluminum, or iron. This gives it a metallic shine compared to wooden fences. It is also easier to make the fence look minimalist compared to wood because the wood's grain adds more details. Metal fences are the better choice when looking for materials that look delicate yet strong.
Features
Vinyl vs Wood Fence
Both vinyl and wooden fences can provide the same level of privacy as both can cover the entire perimeter of your house.
Vinyl fences, being made of plastics, are also easier to maintain and don't wear out as quickly as wooden fences, and are much more flexible and less brittle than wooden fences. In terms of durability and long-term maintenance, the vinyl fence is superior to the wooden fence.
Chain Link vs Wood Fence
A chain link fence is very low maintenance but does not offer the same amount of privacy as a wooden fence does. It can be remedied by placing boards behind or in front of the chain link fence, but you can just skip to that part and not bother with the chain link fence if privacy is your main concern. 
Get Matched with Local Fence Professionals
Answer a few questions and we'll put you in touch with pros near you.
Metal vs Wood Fence
Metal fences are obviously more durable than wooden fences. Rust may be a problem for iron fences but galvanized and aluminum fences can continue to look new and rust-free for years.
It doesn't need to be stained to hide deterioration, unlike wood, and is easier to maintain. Metal fences can withstand the elements better and will be harder to knock down compared to wooden fences.
However, with the spacings between the metal rails, wooden fences generally offer better privacy than metal fences.
Price Comparison
The average 6ft high wooden fence can cost between $2-$15 per linear foot of wood alone, with the cost of labor factored in, the costs of a wooden fence can fall between $27-$60 per linear foot. This estimate doesn't include the paint or stains that will be applied after construction.
Vinyl Fence
A 6ft vinyl fence will fall between the price range of $15-$40 per linear foot, with materials taking up $10-$30 and labor costs making up $5-$10 of the total estimate. This makes vinyl fences cheaper than a wooden fences and is a viable alternative if you want an easy-to-maintain and durable fence that will last for a long time.
Chain Link Fence
A 6ft Chain link fence can cost around $10-$29 per linear foot, including the installation which usually makes up around $3-$15 per linear foot or 25-50% of the total costs, with the wire mesh costing around $2-$15 per linear foot. This makes it a cheaper alternative to wooden fences if privacy is not a concern.
Metal Fence
The cost of a good quality metal fence will depend on its thickness and what kind of metal was used.
Aluminum: On average, it will cost around $27-$36 per linear foot for 6ft tall aluminum fencing panels, with labor costs being in the range of $15-$40 per linear foot bringing the total to approx. $42-$76 per linear foot.
Iron: expect a price range of around $25.50-$32.50 per linear foot, not including the price of labor which can add another $30-$80 per hour.
Metal fences are the most expensive type of fence on this list and are also the strongest material to make your fence out of. 
Find the right fence contractor for your project
Final Thoughts
Wood has long been the go-to material for fence making, but recently, other materials have gotten cheaper and can offer a viable alternative to wood, like vinyl and chain link fences.
Metal fences still remain more expensive than wooden fences, but for good reason as this is the strongest material here. It is also important to remember to follow regulations around fence construction in your area, which can change the total costs of your project.
At FenceAdvise, we pride ourselves on being the most reliable and trustworthy source of fencing information. Our articles are based on only the highest quality sources, including peer-reviewed studies, to ensure that our readers always have access to accurate information. Read more about our Editorial Guidelines.